Dokuflex 
This is a platform that integrates whole process management, document and content in a single repository. Under this concept we have developed solutions that improve business processes, increase productivity and reduce the paper in your organization
The Dokuflex platform consists of a set of fully programmable modules, and interconnected. Among the available modules we have:
TIM: Ticket Expense Manager
DCM: Document Management
ECM: Content Management
BPM: Process Manager / Applications
TAM: Task Manager Projects
WE: Advanced Workflow Engine
Doku4Travel: Management Tickets and Travel Expenses
Doku4Invoices:Invoice Management / Supplier Portal
Doku4Signatures: Portafirmas (Digital Certificate, Biometrics)
Doku4Scan: System autoclassified OCR and document.
Doku4Projects: Managing Projects and Tasks
Doku4Process : Process Management
Doku4Documents: Advanced Document Management
DokuConnectSAP : Connector with SAP R / 3

Solution approved by the
Spanish Tax Agency
 to automate the management of invoices and expense tickets..
Centralized management from anywhere.
Remove the internal correspondence for sending tickets
Meet the spending policy of the company
Help control costs expenses
Build easily trip statistics
Access Dokuflex anywhere, anytime and on any device or application
Web access
Chrome Firefox Internet Explorer Safari….
Microsoft Office
Outlook Word Excel PowerPoint
Mobile
Android IOS (Iphone, Ipad) Windows Phone
Windows
Doku4Scan Doku4Explorer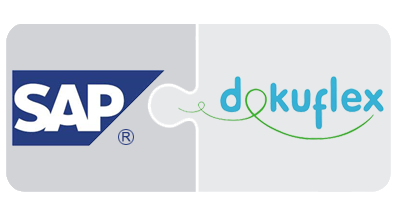 We have connected with other systems Dokuflex for example: We have developed the DokuConnectSAP connector that implements the native SAP ArchiveLink protocol (SAP Content Server 6.20) this means that you can connect SAP R / 3 to Dokuflex without making any kind of development.
You can also perform many other options in SAP
Account Invoices
Account Expenses
ISH-MED
Installation types Dokuflex
Cloud
Public, multi-tenant technology, but share a private instance servers. Private, in an exclusive resort, with dedicated servers.
On Premise
Those organizations that wish to maintain internal policy technological facilities in all the software they use, They can also hire facility Dokuflex in their CPD.