The application of digital transformation strategies has been accelerated since the start of the COVID-19 pandemic, with many businesses following work-from-home guidance from the government whenever possible. These digital transformation strategies allow businesses to establish more sustainable relationships with their employees, propelling them to move forward regardless of the situation. 
One of the most popular digital strategies in the remote work industry is using low-code automation tools in speeding up processes and helping employees navigate the work-from-home setup seamlessly. Low-code apps enable organizations to eliminate the work associated with developing, maintaining, deploying, and updating applications built with traditional software development techniques and frameworks. 
A TechRepublic report indicates that the pandemic is driving the massive shift in adopting a  low-code automation platform with businesses across industries seeking ways to connect employees digitally and help less-experienced users navigate applications. The best low-code development platform coordinates teams across multiple business locations to continuously innovate and increase their overall productivity. This article will take an in-depth look at how organizations can take advantage of low-code platforms to scale operations and enhance productivity in a remote work setting. 
1. Comprehensive Asset Management
Asset management is an important component that drives and streamlines remote business operations. The need for comprehensive asset management has only risen in the pandemic era and will continue to grow after the pandemic hits the bricks. Ensuring effective asset management can provide organizations with many benefits, including increased efficiency in their supply chain operations and greater employee efficiency. 
Managing assets is becoming more complex, with employees being forced to work from home. Taking advantage of low-code apps enables businesses to easily and quickly create processes that can lower the operational costs of handling organizational assets and improve their employees' remote working experience. 
Implementing a low-code development approach in managing assets is helpful since it can bring them all together using automation. Low-code platform providers use a step-by-step and interactive wizard to create business applications that can be used to accomplish comprehensive asset management while allowing for standard IT governance. 
2. Seamless Cross-platform Deployment
Cross-platform deployment is one of the most critical low-code platform features in a remote working environment because it provides the required flexibility for business teams to scale as needed. It can also facilitate dynamic synchronization of data between back-end and user devices to maintain consistency within operations. 
With data synchronization implemented throughout a system, your business will experience performance improvements in reputation management and operational efficiency.
Low-code applications are geared with dynamic cross-platform capabilities that allow you to design processes in a universal language. This ensures that your apps and processes work efficiently on Android, Mac, iOS, Linux, and Windows devices. As a result, organizations can reduce the learning curve of navigating through innovative processes and eliminate employees' need to have multiple devices to cater to processes and become more efficient. 
Cross-platform deployment is key to ensuring effective process management, so it is one of the features of business process management software to consider. It also helps align business goals and processes as your operations evolve and ensuring the proper steps are defined to carry out tasks. By utilizing low-code apps, organizations can reuse old methods of developing business processes, thereby controlling costs, reducing training time, and ensuring employees can complete tasks quickly and efficiently. 
3. Integration with Legacy Systems
The pandemic has forced businesses to incorporate innovative strategies into their operations to keep up with the remote work setting changes. However, not every employee is receptive to change, especially when possible system hiccups require workarounds and result in downtime. 
A Forbes report revealed that most remote workers are still unprepared for working from home and growing frustrated because of their inability to adapt to company changes in policies and operations. Adopting low-code platforms into your daily processes allows your employees to concentrate on pressing business matters rather than learning the technicalities of navigating new systems. 
Low-code platforms can seamlessly integrate with your legacy systems. This means that you can extend its capability without having to employ expensive specialist developers. It also allows remote employees using legacy systems and those who interact with customers to work conjointly in producing reliable, safe, and consistent new processes established on proven business methods. As a result, businesses can drive a higher return on investment (ROI) and optimal efficiency while simultaneously extending the legacy platform's lifespans and overall usefulness. 
4. Improve IT Processes
Making process improvements and evaluating your IT controls can be challenging when employees are scattered and your physical office empty. However, the need for business process improvement is becoming more important than ever to cater to the growing number of remote employees. Business process improvement allows organizations to reduce process completion time, identify wasted efforts, and improve work output quality. Improving IT processes also enables you to uncover ways to enhance efficiency and free employees to concentrate on business strategy. 
Low-code automation platforms empower businesses to develop tools that do not require extensive coding requirements to improve their processes. Less coding means less IT time spent on process-building efforts and bugs, allowing your team to concentrate on higher-value tasks rather than on projects that may not be the most critical to growing your business in the pandemic era.
The customization aspect of low-code processes also allows your business to work with more precision. As remote employees who understand the business processes best contribute their ideas to what would make the most useful and efficient application, productivity will increase because of your custom-designed tool's accuracy. Ultimately, improving IT processes faster can result in reduced costs and better allocation of resources.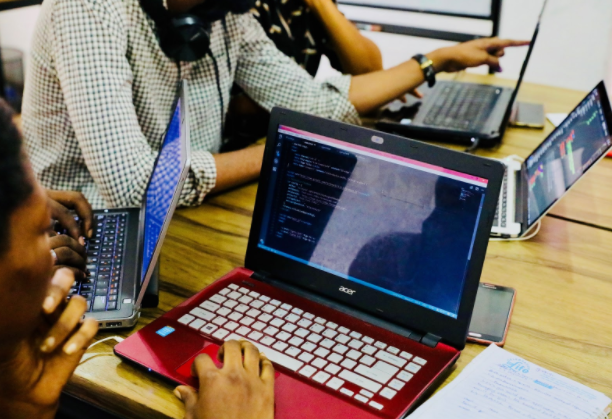 5. Create a Unified Solution
The speed of technological innovation and the recent pandemic has propelled organizations to rethink and redesign their business processes to remain competitive and productive. The universal need for simple and unique solutions to help employees remotely navigate daily processes is becoming more apparent in the industry, with businesses seeking to ensure higher employee productivity, achieve automation, and reduce costs. 
Unfortunately, traditional software development is time-consuming, expensive, and can result in enormous backlogs for businesses. Leveraging a low-code platform enables you to quickly develop a solution that is parallel with your business requirements. It also helps that low-code eliminate manual coding errors, thereby making it easier to restructure, simplify, and speed up app development. 
Considering your unique requirements also ensures that the solution will work seamlessly with existing business systems, all the while eliminating the need for employee training. By adopting a unified solution to manage all processes, businesses enable remote employees to work flexibly, tackle human latency, and address scaling concerns for expansion. 
Increasing Productivity Through Low-Code Platforms
Any effective and successful business understands the importance of achieving productivity in digital transformation. As productivity increases, an organization can turn resources into revenues and retain cash flows for future growth and expansion. Knowing what is low-code development and why is it important is key in increasing productivity and making businesses more agile to adapt to the continuous changes in their industries. 
Dokuflex is a dynamic low-code document management solution that empowers organizations to quickly build and implement automated business processes. It is geared with powerful built-in visual modeling tools and an easy-to-use drag-and-drop designer that centralizes digital process designing, development, and implementation. Pricing packages for Dokuflex are available upon the customer's request.