DokuFlex Office AddIns are a set of Add-ins for Microsoft Office 2007, 2010 and 2013 that lets you quickly take advantage of content stored in DokuFlex giving the user the ability to open documents, spreadsheets and presentationsdirectly from your Office applications with just a few clicks.
Features of DokuFlex Office Add-ins
This program lets you create and modify new Office files and easily save them directly in DokuFlex. But the guys from DokuFlex have taken a step further and have included these series of Add-ins in Outlook as well, so now you can upload and download files of DokuFlex with an intuitive and simple interface from any of the Microsoft Office applications. Thanks to these measures, we can achieve some improvements in work of our company, expediting the process of storing and editing of documents, since we can access the needed documents from the computer without using USB drives.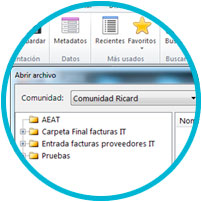 Besides all this, we are getting a substantial improvement in the safety of our documents, since they are always stored in network, it is impossible that they will be deleted, and several people can work on them at once. All our products are researched and worked through by our developers, who strive every day to improve our products, in Dokuflex we seek to improve the lives of entrepreneurs, streamlining the work and taking increasingly business solutions, which enable us to work more comfortable and faster. As for the first version of these addins they are not bad…I recommend it and guaranteeе that it will be a good investment, you can use the electronic document management system and spend the time with your family or friends instead of working all day in front of your computer.