With doku4SAP we continue the series of articles about all doku4SAP products. We have already described doku4invoices for invoice digitalization, doku4documents for document management, doku4process for advanced business processes and doku4signatures for digital signature. Today it's time of doku4SAP, our solution to connect your SAP to the dokuflex solutions, performing tasks in an absolutely bidirectional and simple way.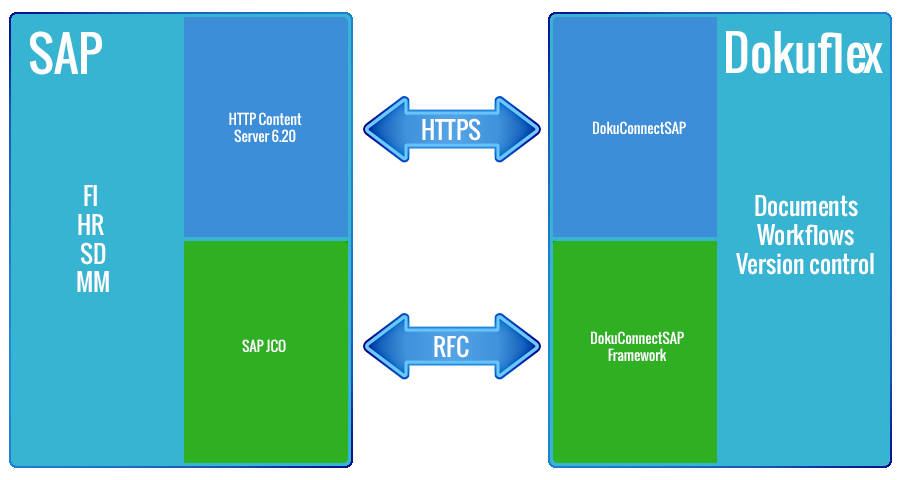 Doku4SAP characteristics
Synchronization of all dokuflex solutions with our SAP, allowing, for example, to save all invoices made in doku4invoices, in our SAP and performing automatic accounting thence. If you do not want to use doku4invoices, you can also scan the invoice directly to SAP.
High availability: This solution allows the data to be always available to the users or the outsiders of your personalized dokuflex platform. This is useful in case you want to show certain documents or invoices to the people being away from the company.
Light and flexible: with this solution you don't need big requisites of the system; therefore you don't have to invest a lot of money neither in hardware innovations nor in the server nor in the equipment nor in mobile devices.
100% secure: All dokuflex connections to SAP use high security protocols such as HTTPS (HTTP encryption) and RFC. In other words, I mean that no attacker can steal your data; it's something very important in the world where the industrial espionage is on the agenda.
Finally, with this solution we gain speed in business, efficiency, safety and ease of use, all this without large investments. If I have convinced you to contract this service and all dokuflex apps, click the contact section so that our experts could offer you more information for free, clear up your doubts on this matter and, obviously, offer special prices.